LED Backlight Pixel Panel Backlight LED LED Pixel Panel DMX LED Backlight 36 Pixels Panel LED Backli
Delivery term:The date of payment from buyers deliver within days
Price:

Negotiable

minimum:

Total supply:

Delivery term:

The date of payment from buyers deliver within days

seat:

Guangdong

Validity to:

Long-term effective

Last update:

2017-07-07 20:30

Browse the number:

1066
Send an inquiries
Company Profile
3Cinno Group Co.,Ltd

By certification [File Integrity]
Contact:

sansinuo(Mr.)

Email:

Telephone:

Phone:

Area:

Guangdong

Address:

B 421, Tianhui Building, Donghuan 1st Road, Longhua New District, Shenzhen, China.
Product details
LED Backlight Pixel Panel Backlight LED LED Pixel Panel DMX LED Backlight 36 Pixels Panel LED Backlight Pixel RGB Pixel Panel Stage Panel Light Video Wall Panel adopt high brightness LED chips SMD 5050 LED as light source, clear and pleasant light beam, bright and non-glare. With DMX 512 controller or DMX console sub controller, it can achieve color fading, skipping, scanning, chasing,  playing flash and video, etc. After installation, DMX addresses can be set automatically, solving the trouble of setting DMX address and saving time. Easy connection and installation. Panels can be combined seamlessly.It can be used as LED pixel backlight, video pixel light, bar decoration panel light, stage panel light, video wall panel light, etc.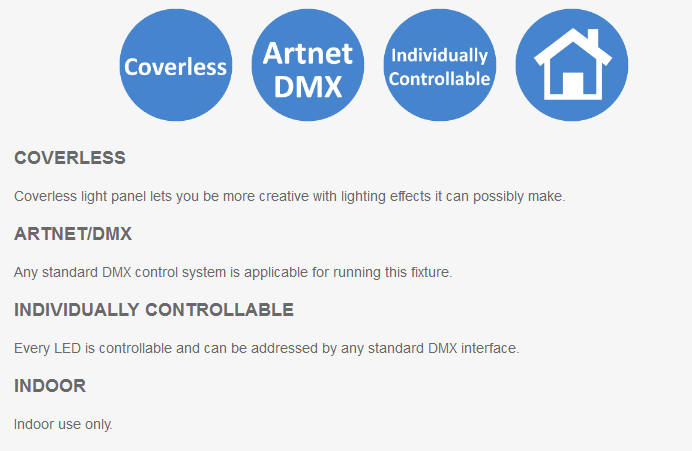 LED Backlight Pixel Panel Backlight LED LED Pixel Panel DMX LED Backlight 36 Pixels Panel LED Backlight Pixel RGB Pixel Panel Stage Panel Light Video Wall Panel 
3C-DLP-36P30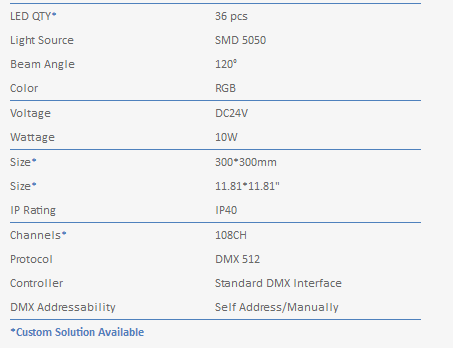 FAQ:

1. What's the custom solution for this product?

    Pitch can be customized.

2. What's the application of this product?

    Panels can be combined seamlessly.It can be used as LED pixel backlight, video pixel light, bar decoration panel light, stage panel light, video wall panel light, etc.

3. What effects can I get from this product?

    It can achieve color fading,skipping,scanning,chasing,playing flash and video,etc. 

4. What's the unique feature of this product?

     Coverless Panel Light/Individually Controllable/Easy Connection and Installation